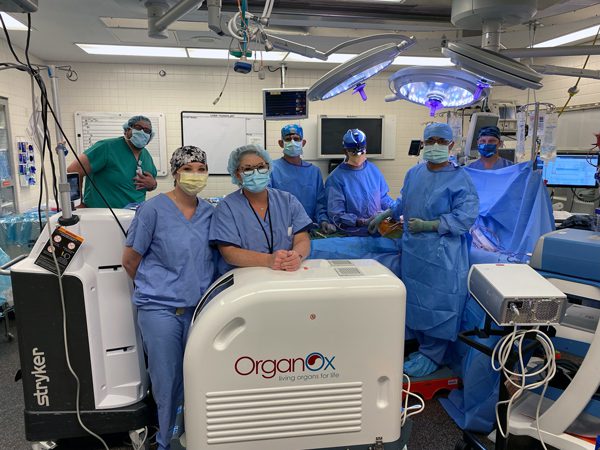 LifeShare of Oklahoma Makes U.S. History with Use of Perfusion Technology
Oklahoma Organ Procurement Organization Successfully Places Liver for Transplant Following Preservation by In-House Perfusion Team
LifeShare of Oklahoma, the organization in the state responsible for the recovery of organs and tissue for transplant, has made national history by being the first organ procurement organization (OPO) in the U.S. to successfully own, operate and place a liver for transplant following preservation on the OrganOx metra.
This represents the first time a liver has been clinically transplanted in the U.S. after being preserved on the metra by an OPO-based preservation team. Prior to this, all U.S. transplants involving the device have either been conducted by transplant center teams as part of the clinical trial or following Food and Drug Administration (FDA) approval.
LifeShare has their own in-house team of specially trained technicians that operate the perfusion device. The Oklahoma OPO originally started using this new perfusion technology to conduct clinical research before the device was approved by the FDA for use in transplants.
Perfusion and preservation of organs has become a heavily explored area of medical advancement in hopes of providing more organs for transplant to decrease the national waiting list. Over the years, LifeShare has grown their use of perfusion technology to improve both the number and quality of organs available for transplant with a focus on kidney and liver preservation.
"When we started down this path to grow our liver preservation efforts last November, the vision was to bring this important, new lifesaving technology to LifeShare to further our mission of saving more lives," shared Jeffrey Orlowski, President and Chief Executive Officer of LifeShare. "We are pleased to announce our vision has become a reality with our preservation team placing a liver for transplant after it was perfused with the metra."
This history-making announcement comes on the heels of LifeShare opening a new Clinical Innovation Center in April, which houses the organizations tissue recovery and organ preservation efforts. The Clinical Innovation Center is a new 19,000 square foot state-of-the-art clinical facility built to support LifeShare's core purpose of saving and healing lives, along with medical advancement in donation and transplantation.
"The work LifeShare is doing is a major step forward in liver preservation," said Orlowski. "Our work is proof that an OPO-based liver perfusion system can be successfully implemented, thereby broadening efforts to save more lives across the nation."