TRIO/United Airlines Travel Program
United Airlines Supports TRIO and the transplant community!
The TRIO/United Airlines Travel Program is a cooperative arrangement between TRIO and the United Airlines Charity Miles Program. It provides for transplant recipients, candidates, living donors and care-givers cost-free air transportation when travel is transplant-related.
https://www.trioweb.org/resources/trio-united-airlines-travel-program.html
Other Transplant Resources
American Heart Association
7272 Greenville Ave.
Dallas, TX 75231Phone
(800) 242-8721

American Diabetes Association
1-800-DIABETES (800-342-2383) Monday-Friday

AAKP
2701 N. Rocky Point Drive
Suite 150
Tampa,FL 33067
Phone: 813-636-8100
Toll-Free: 800-749-AAKP
Fax: 813-636-8122

American Lung Association
55 W. Wacker Drive, Suite 1150, Chicago, IL 60601
Phone: 1-800-LUNGUSA
Fax: 202-452-1805
American Liver Foundation
39 Broadway, Suite 2700
New York, New York 10006
The American Liver Foundation's support services provide information about liver disease, resources and emotional support to patients, family members and caregivers.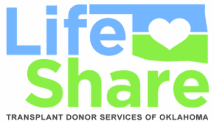 LifeShare of Oklahoma
4705 NW Expressway                                                                                                                                                            Oklahoma City, Oklahoma 73132
Phone: 405-840-5551
https://www.lifeshareoklahoma.org/

National Kidney Foundation
6405 Metcalf Avenue, Suite 204
Overland Park, KS 66202
Phone: 913.262.1551
Toll Free: 800.444.8113
https://www.kidney.org/offices/nkf-serving-western-missouri-kansas-and-oklahoma
UNOS Transplant Living
Transplant Living serves the transplant community as the premier online source of transplant information for transplant patients and their families.

UNOS Corporate Headquarters
700 North 4th Street
Richmond, Virginia 23219
Phone: 804-782-4800
Fax: 804-782-4817
https://unos.org/
Disclaimer:
TRIO National and TRIO Oklahoma does not engage in any organ procurement, fundraising or provide financial assistance for any individual, candidate, recipient or their families.