2020-2023 Board of Directors
Lorrinda Gray-Davis: President
Lorrinda is the founder and President of TRIO-Oklahoma. She grew up in Tulsa and is proud to be an Oklahoman and so grateful for her donor. Lorrinda has a daughter 26, Taylor, who is also a charter member of TRIO-Oklahoma.
After relocating back to Oklahoma, Lorrinda was diagnosed with liver cancer and received her liver transplant August 8, 2018, at Nazih-Zuhdi Transplant Institute, Integris Baptist Hospital.
The work of her doctors, nurses, other medical professionals inspired her to contribute in new ways; volunteering at LifeShare of Oklahoma advocating and educating others on the importance of being an organ donor.
Five months post-op, Lorrinda was appointed as a National Board Member of Transplant Recipients International Organization where she is serving on the By-Laws and Public Policy Committees. Lorrinda's goal is to improve the lives of pre-transplant and post-transplant patients through advocacy, education literatures, support, and awareness programs.
Throughout her career, Lorrinda has demonstrated that she is capable of listening to people, building relationships, and using her network to empower others, which gives a voice to groups that have otherwise been silenced. Whether in the construction industry as the driving force of one of the most ambitious diversity initiatives, or in the transplant community, Lorrinda is always striving for more.
Lorrinda has served on several boards, including the Women's Business Enterprise Council West, the Arizona Hispanic Chamber of Commerce as Board Secretary and Board Chair for the Pacific Southwestern Supplier Development Council. Lorrinda has received recognition for her contributions from the Minority Business Development Agency (SBA) Advocate of the Year, Nevada Women's Chamber Hall of Fame and being named among the Top Executive Women to Watch by Diversity Plus Magazine. Lorrinda is a 2020 nominee for the Oklahoma Women's Hall of Fame. (Full Bio Available Upon Request)
Karen Hoyt: Vice President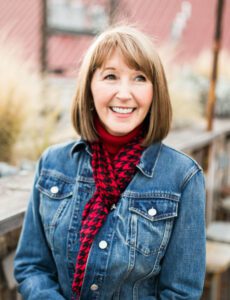 Karen is a co-founder of TRIO Oklahoma along with Lorrinda. Karen received her life saving liver transplant on April 13, 2015. She is the founder of ihelpc.com, Your Best Friends Guide, an award winning website devoted to liver disease. She is active in several organizations. She serves on committees and co-chairs for the American Association for the Study of Liver Disease, a road race advisory member for the WTGF. She's the patient engagement leader for Global Liver Institute. In addition, she contributes to multiple health outlets for liver disease and cancer. She's has remained active with the National Viral Hepatitis Roundtable since 2015. Karen has a desire to advocate and provide encouragement for anyone with liver disease, or is part of the transplant community. She supports LifeShare Oklahoma by serving on the Little Red Heart 5K team, and was awarded Advocate of the year 2019 . She continues to raise awareness for organ donation. She's grateful for her donor mom and family, and honor's her donor, Gavin in all of her work.
Karen is married to Joe, and together they have 2 boys, 1 daughter, and 2 granddaughters. They enjoy living the woods of Oklahoma, writing, reading, sports, fishing, canoeing, and traveling to explore nature. Karen attended the 2016 Transplant Games and the 2017 World Transplant Games in Malaga Spain, where she won a Gold Medal in cycling. She is an Oklahoma educator who is also certified and teaches yoga and Tai Chi.
Sandra Edwards: Secretary
Sandra Edwards is the recipient of a lifesaving liver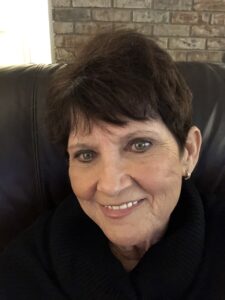 transplant on January 24th, 2020 after a long bout with liver failure from Hepatic Encephalopathy and Liver Cancer. Working in healthcare for over 40 years her exposure to the transplant community has been a blessing in this process and aids in her desire to be an advocate for transplant patients.
Sandra is married to her husband John and together they have 3 children, one who is deceased at an early age and 3 grandchildren who spend a lot of time together watching football, baseball and having fun as a family while also traveling as much they can.
Sandra is a National Past President and Board Member of the Association of Surgical Technologists as well as a Past President of the National Board of Surgical Technology and Surgical Assisting where she has volunteered and mentored others in the field for decades. Her desire to mentor and aid other transplant patients as well as advocate for those of diverse backgrounds is in the forefront with involvement for TRIO-Oklahoma.
Robert S Young: Treasurer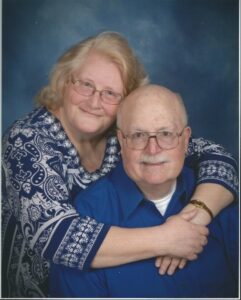 Robert (Bob) is a 22 years post liver transplant recipient, a veteran, volunteer, teacher and a charter member of TRIO-Oklahoma. He is a graduate of Oklahoma State University with a B.A. in Marketing. Bob has held positions with Wachovia Bank and has taught graduate and undergraduate marketing courses at Universities around the San Francisco area.
In 1996, Bob began to put on weight and slowed down a lot.  After a lengthy process he was diagnosed Alpha1 Antitrypsin deficiency, a very rare genetic disorder. Bob was put on the liver transplant list in December 1996 and received his transplant on June 4, 1998.
At that time Bob started his third career. His wife calls him a professional volunteer now.  Bob started volunteering, first for the local Boy Scout council and then joined Kiwanis and got involved in promoting organ donation. Bob has held several jobs in each of these organizations,  he has spoken about organ donation to thousands of high school students and his church usually manages to also find him a project or two. In the last five years he has become active in helping other veterans. At TRIO-Oklahoma we value Bob's experience and mentorship to our pre-transplant members.
Glenn Coffey Jr: Board Member
Glenn Coffey, Jr. received his life saving transplant on July 7, 2019. Glenn had an unknown type of heredity disease which caused the need for a transplant. Glenn has been around the transplant community since 2005 when his dad was diagnosed with liver disease and added to the transplant list.
Glenn is married to Brandi, and together they have 5 boys and 1 girl. Glenn's daughter went home to our heavenly father in 2012. Glenn continues to work and enjoys watching baseball, his kids grow-up and mature and trying to help people who are going through trying times with their health. Glenn was able to go back to work after a couple months and continues to work to this day. He mentions this to make sure others keep the hope and prayer that they too have the possibility to have a good life once again. Glenn is a charter member of TRIO-Oklahoma
Shirleyanne Brown Johnson: Board Member
Born in the great state of Texas, Shirleyanne transplanted to Oklahoma in 1974 after 20 moves with her family. Forever a Texan, she is more Okie today. She resides in Broken Arrow, Oklahoma with her husband.
Shirleyanne received a change of heart November 7, 2016. As God would have it, her donor heart is Texan! Due to her successful heart transplant, her life changed radically. Unable to return to corporate America, she is now fulfilling her passion in ministry and outreach with her Therapy Dog, Sarah Belle.
For a time she prayed that she would be able to work in Broken Arrow, giving back to her community. Her prayer was answered, not as she expected. Rather far better! Volunteering is paramount in her new life.
Shirleyanne and Sarah Belle were Tulsa Area United Way Ambassadors for 2017-2018. Shirleyanne serves in her church, COTM, as a Small Group Leader. She is a Founding Member of TUL Welcome Waggin' at Tulsa International Airport. She and Sarah Belle also serve in the community including, but not limited to; addiction support, Hospice, special needs students, crisis relief, mourning care, and of course Transplant mentoring. Shirleyanne is a charter member of TRIO-Oklahoma.
Trio-Oklahoma is a cherry on top of the cake for Shirleyanne and Sarah Belle as they will be able to reach out to transplant patients on a broader scale. Her advice is, "Don't give up, look up!"
Emanuel Lewis: Board Member
Emanuel Lewis is a kidney transplant recipient and married to Dr. Regina Lewis they have two beautiful children. Emanuel received his former education at the University of Oklahoma with a Bachelor's degree African and African-American studies and later received a Masters of Science degree in Counseling from Langston University. Emanuel has been working as a therapist in Tulsa for the past five years. He is currently pursuing his PhD in Counseling Education and Supervision. Emanuel has been working as a Therapist in Tulsa Oklahoma for the last eight years. He is a board member of ACE and Oklahoma Rehabilitation Association (ORA) also a member of the National Rehabilitation Association (NRA) and Omega Psi Phi Fraternity Inc. Emanuel is a charter member of TRIO-Oklahoma.
Conna Weaver: Board Member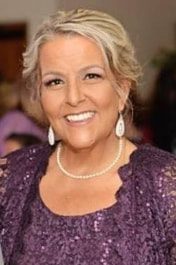 Conna Weaver of Moore, Okla has lived a very active life – with four grown kids and nine grandchildren all involved in their respective hobbies and within miles of her – she never missed anything. She spent time at the lake with her family and looked forward to family vacations to the ocean. When she wasn't with her family, Conna was working at a job she adored. She worked more than 22 years keeping semi-truck drivers safe and compliant on the road.
Conna realizes that the worst day of one family's life was the best day of hers. Through the midst of this family's tragedy, they chose to give life to someone like Conna – who chooses to do good with this new life she was been given. She honors her donor by loving her grandkids, spreading positivity and helping others as a charter member and volunteer for TRIO-Oklahoma.
Kim Martinez: Board Member
Kim has lived in Oklahoma for 30 years but grew up in California in a very large family. She is a liver recipient and advocate for organ donation. Kim is an alumni of Global Liver Institute's A3 Academy,  Liver Patient Advocate and Volunteer for LifeShare of Oklahoma. Kim is a charter member of TRIO-Oklahoma.
Cody Reynolds: Board Member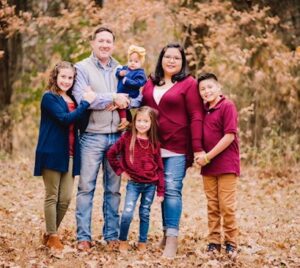 Cody lives in Tishomingo, OK. He and his wife Kellie have been married for 13 years and have four children, Kambree 12, Ian 11, Collins 6, and Elaina 2.
Their daughter Elaina was diagnosed with biliary atresia shortly after she was born in 2019. Cody and Kellie quickly learned how to care for a medically fragile child, learning to give IV antibiotics, run TPN and lipids, and connect a NG feed tube. Elaina was listed for transplant in June 2020 through Texas Children's Hospital in Houston, Texas. After hearing their daughter would eventually need a liver transplant they joined many support and advocacy groups on social media, including LifeShare of Oklahoma advocates group.
Cody researched outcomes of transplant patients; during his research he noticed the survival outcomes for First American/Pacific Islander were not included in transplant survival data.  Cody, being the advocate, he is, asked UNOS to update their systems information to provide that much need data.
In their spare time, they stay busy watching their kids play basketball, baseball, and softball. Cody is excited to join TRIO-Oklahoma and help improve the lives of those that are pre and post-transplant
Catherine Cronin: Board Member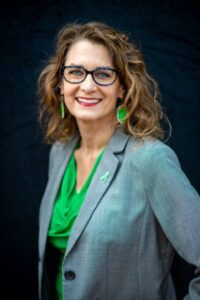 Catherine Cronin is a charter member of TRIO Oklahoma. Raised in Tulsa, OK, she attended both Oklahoma State University as well as Oklahoma University. Catherine and her husband moved from Tulsa to Edmond, OK in 1997. She has been married to her husband, Chad Cronin, for 26 years. They have 2 children; Sarah 23 and Matt 20 years old. Catherine, or "Cat" as she likes to be called, enjoys traveling with family and friends. She is looking forward to getting out on the road again with safety precautions in place.
Shortly after returning from their 25th wedding anniversary trip to New England in August 2019, Catherine became very ill. Although, it is unclear the cause of her liver injury, one theory is that a prescription medication triggered this medical series of events, as her condition deteriorated quickly after a few doses. She was admitted to the hospital with fever, chills, and extremely elevated liver enzymes. Within a week, her condition worsened and she was transferred to the ICU. After being placed on a ventilator she was given a 24-36 hour window for survival pending transplant surgery. She was experiencing fulminant liver failure. She was listed as "1a status" for transplant, provisionally on Labor Day. The following day she was officially listed, matched, and transplanted in less than 24 hours! She remains forever grateful to her donor and the fabulous team of surgeons, physicians and nurses who saved her life. Catherine received her life saving liver transplant on September 4, 2019. Catherine prays for her organ donor and their family constantly.
Catherine continues her work as a medical representative for a pharmaceutical company supporting Nephrologists with their patients who suffer from Autosomal Dominant Polycystic Kidney Disease (ADPKD). She is an active member of the Healthcare Businesswomen's Association (HBA) and continually participates in virtual conferences with the group. She actively supports the National Kidney Foundation (NKF) as well as the Polycystic Kidney Disease (PKD) Foundation, and has been the Team Captain for the last 3 years for the Walk to end PKD. Based on her personal experience, she stands as a fervent advocate for organ donation and awareness. Catherine is very thankful for TRIO-Oklahoma and the support they group give to one another.