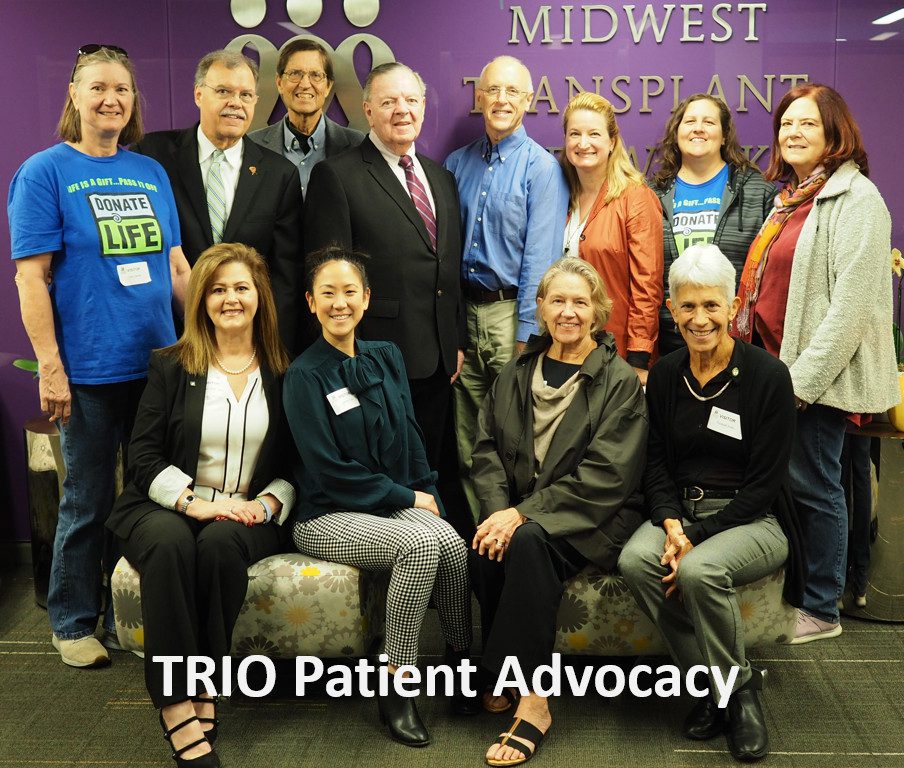 PUBLIC POLICY COMMTTEE REPORT – APRIL, 2022
THE LATEST COVID INFORMATION
Members of TRIO recently sat in on a webinar on March 11 hosted by Transplant Journey, Inc. (TJI).  TJI is an organization started by Jen Benson, who received a simultaneous kidney-pancreas transplant more than 5 years ago. TJI provides access to one-on-one support and mentoring from individuals who have been on the transplant path.
TJI presented Dr. Marcus Pereira, the Medical Director for the Transplant Infectious Disease Program at the NYP-Columbia transplant program. Dr. Pereira's information-packed webinar is now available on YouTube, at the following link:  https://www.youtube.com/channel/UCX48VaE-ILDqwxt-Ktpget  Dr. Pereira provided some particularly important information on the timing of vaccinations and Evusheld, the new pre-exposure prophylactic treatment for transplant recipients. He summarized this as follows:
Is it ok to get  a vaccine after COVID-19? If so, when?  • Yes it is ok. Per CDC, no need to wait 14 days. Just wait until recovered.
Is it ok to get Evusheld after COVID-19? If so, when?  • Yes it is ok. No need to wait.
After Evusheld, is it ok to get a vaccine? If so, when?  • Yes, it is ok. Per CDC, no need to wait.
After getting the vaccine, is it ok to get Evusheld? If so, when?  • Yes, it is ok. Per FDA, wait 14 days.
Information on COVID-19 is constantly being updated by government agencies, transplant centers, pharmaceutical companies, and professional medical organizations. Please make sure you're keeping up-to-date with this information. As always, please consult your transplant team before any vaccine or prophylactic treatment.
PART D COALITION
TRIO continues to actively participate in the Part D Coalition to support the six protected classes of drugs which includes immunosuppressives.  The Coalition is currently considering how best to work with Congressional staff on a proposal for a Congressional Resolution in support of Part D and the protected classes.  At this point, there is no active discussion or consideration in the Congress or the Administration of any changes to the protected classes nor does there appear to be any movement in that direction in the near future.   Updates will be provided in future reports as the determination on action on the Resolution proceeds.
FRIENDS of HRSA
TRIO is a participant in a group of organizations called the Friends of HRSA.  HRSA or the Health Services Resource Administration is an Agency with Department of Health and Human Services which has the responsibility for administration and funding for the United Network for Organ Sharing (UNOS).  The Friends of HRSA recently developed a letter which supported the full funding of the HRSA and TRIO has signed on in support of that funding.   Such full  funding will clearly help reach UNOS better administer and support the transplant community.
UNOS REGIONAL MEETINGS AND COMMENTS ON POLICY PROPOSALS
UNOS has two sets of annual regional meetings  – a winter and summer session each year.   The winter regional meetings have now been completed and Committee members attended various meetings virtually around the country.  The summer schedule for meetings has not yet been released and the committee will share that information as soon as it is available.
As discussed in previous reports UNOS had fourteen (14) proposals out for public comment which ended on March 23 and is now closed.   Information about the proposals and those comments can be  found at https://optn.transplant.hrsa.gov/policies-bylaws/public-comment/  The public policy committee will continue to actively follow this policy development process and report on UNOS actions as updates become available.
SAFE STEPS ACT
TRIO has signed on to a letter in support of the Safe Steps Act.  This Act would limit the use of step therapy in many circumstances and allow patients better and quicker access to prescription drugs that work for them without the need for step therapy or the use of drugs other than the one prescribed for them individually.   Even though we as transplant recipients enjoy many of these protections under Part D, TRIO determined that this protection should be available for all patients and wanted to show its support for the needs of the patient community more broadly by signing on to the letter.  No action has been taken on the Act and the public policy committee will continue to report on and monitor the status of any legislation that moves forward.
XENOTRANSPLANTATION
Members of the Public Policy committee sat in on a recent webinar sponsored by CareDx on xenotransplantation.  The webinar was highly technical in nature and focused on genetic and other challenges that will need to be resolved to make xenotransplantation using the animal organs successful. The webinar also discussed a number of bioengineering developments and the ongoing efforts in the area of the artificially created organs.   Jim Gleason, TRIO's president, very ably represented the patient community perspective during the webinar.  The major takeaway of course is that as these developments progress the future could hold  major changes in the organ transplant process and in fact an entirely different system of transplantation would be created.  TRIO will continue to follow CareDx activities in this area.